7 GAMING ROOM LIGHTS FOR A BETTER GAMING EXPERIENCE
May 18, 2023
by Olivia Lin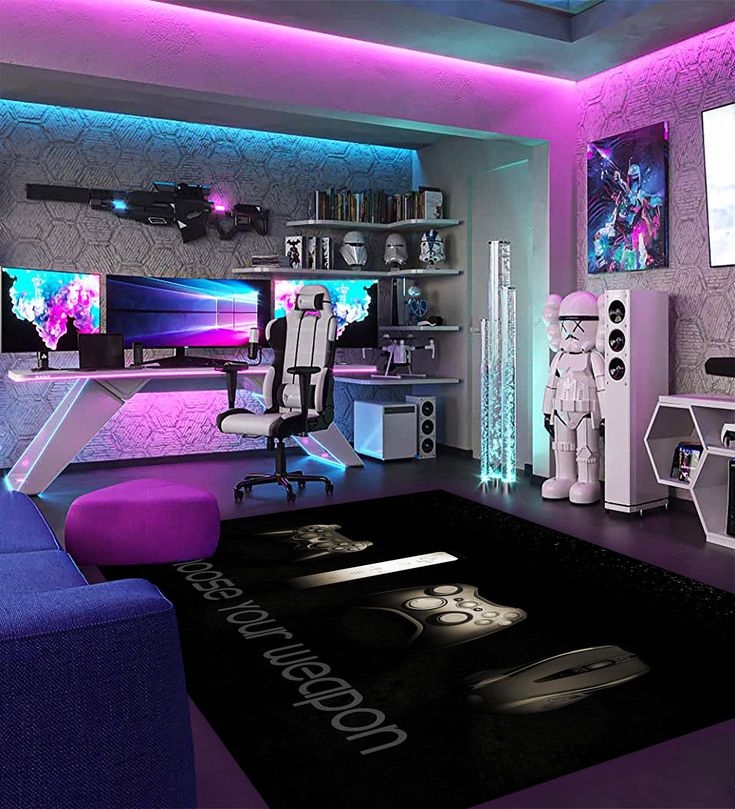 Does your gaming space feel a bit lifeless? If so, cool gaming room lights may be the missing piece. The right lighting not only enhances the aesthetics of your gaming room but also contributes to an immersive gaming experience. Our list covers a wide variety of well-received and interesting products that can enhance your gaming experience. Let's get into it and find out which one will work for you!
1 Smart RGB Wall Light Panel
The Smart RGB Wall Light Panel is a must-have for any gaming enthusiast. With customizable colors and effects, this lighting solution allows you to create stunning visual displays on your walls. Set the perfect ambiance and match your gaming mood with a simple voice command or through a smartphone app.
2 Smart RGB Strip
If you value simplicity, an RGB light strip is probably the most straightforward way to add ambient lighting to your gaming room. Not only does it sync with music, but it also works with Alexa, Google Home App, and Apple Home Kit. Most users mount it behind or underneath their desks for a softer lighting effect. When placed in direct vision, we recommend placing it inside a track diffuser so that the light spreads out evenly.
3 RGB Wall and Ceiling Projector
Take your gaming experience to the next level with an RGB Wall and Ceiling Projector. This innovative lighting solution projects mesmerizing patterns and colors onto your walls and ceiling, transforming your gaming room into a captivating gaming haven. Immerse yourself in a world of vibrant visuals and feel the energy of your games.
4 Smart RGB Desk Lamp
The choice of a lamp will be in adequacy with your passions and your tastes. Gamers love to install these small lights near their screens to avoid being plunged into complete darkness, which can have effects on your vision.

The Polygon Lamp Music Rhythm is a table lamp packed with functionality. With soft and ambient lighting, this lamp reacts to the surrounding sound and plays the light rhythmically. Remote and APP control make it convenient when you fit in anywhere in your house.
5 Smart RGB Corner Floor Lamp
Illuminate the corners of your gaming room with the Smart RGB Corner Floor Lamp. This sleek and modern lighting solution not only adds a touch of style but also offers adjustable colors and brightness levels. Create a cozy and inviting atmosphere that enhances your gaming performance.
6 RGB PC Fan Lights
Your PC setup doesn't just revolve around what you see in front of you, like your keyboard, mouse, and monitor, you should also factor in your entire PC tower. If you're going to incorporate RGB lighting into your setup, you might as well add RGB into your PC as well. A lot of PC fans are made with RGB lighting installed, providing both cooling and lighting functionalities.
7 Portable Lights
Don't limit your gaming experience to a single room. Take your gaming setup anywhere with portable lights. These compact and rechargeable lights provide illumination on-the-go, allowing you to set up your gaming station wherever you please.
Recommend
Looking to enhance your game room experience? Look no further than the Lamp Depot Corner Lamp. The easy-to-use remote control makes it simple to shuffle through 16+ million colors and 300+multi color effects to find your perfect lighting. Upgrade your game room with the Lamp Depot Corner Lamp and take your gaming adventures to a whole new level. BUY ONE GET ONE FREE! !,    SHOP NOW>>
Read also

How to Make a Dreamy DIY Glamping Tent?
5 Creative outdoor patio lighting ideas
Fantastic Computer Game Room Lighting Ideas
Buying Guide: 7 Best Ocean Wave Light Projectors