5 Creative outdoor patio lighting ideas
April 22, 2023
by Olivia Lin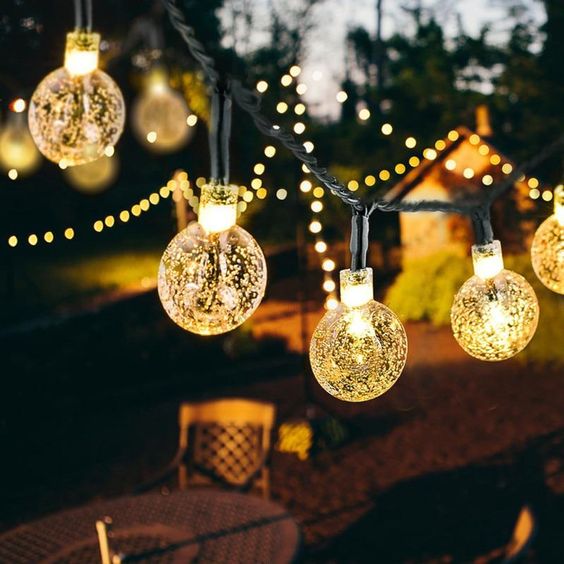 Outdoor lighting is an important aspect of yard and garden design. The right fixtures or features can be a great way to create a unique and inviting atmosphere, while also providing functional lighting for use and safety purposes.  With the right lighting, you can transform your outdoor space into a cozy and inviting area for entertaining guests or simply relaxing after a long day.
If you're ready to shine some light on your outdoor space, we'll dive into five great options for outdoor patio lights. Let's jump in!
Patio Lighting Ideas
When you're planning your patio ideas, it's vital to create sufficient light for everyone to move around the space and take their seats safely – as well as see their food and drink.
1 Path Lighting
Imagine this stone walkway without the glow of these solar path lights. Not only would it be practically invisible at night, but it would also become a serious safety hazard. Pathway lighting is best for illuminating a walkway that leads to your patio. You can also use pathway lights to brighten driveways and footpaths or as a decorative way to accent your patio steps or highlight shrubbery and flowerbeds. Solar lights are often a go-to choice since they require no battery replacement and will turn on at dusk.
2 Paper Lanterns
As an alternative to the soft ambiance of string lights, consider hanging paper lanterns instead. Use lights of varying diameters to add illumination and visual interest. As done here by Brooke Christen of Nesting With Grace. Not only will the look add a focal point to your outdoor zone, but it will deliver a soft glow overhead that will basically act as an IRL Instagram filter.
3 Pendant Light
A pendant light outdoors can serve the same function as a well-placed indoor fixture, providing illumination and adding some elegance to your outdoor dining space. One of the biggest problems homeowners face with using their patio is trying to keep warm outdoors during the cooler summer evenings. However, if you are brainstorming new patio lighting ideas, it is worth noting that heat can also be incorporated into them.
4 Outdoor Music Sync RGB Strip Lights
RGB strip lights can be one of the most effective, mood-boosting tools for outdoor lighting patio ideas. Turn your outdoor entertainment area into a party central with outdoor-rated color-changing LED strip lights.
5 String Lights
Some of the most popular outdoor lighting ideas are the Edison bulb string lights and globe string lights, also referred to as bistro, cafe, or market lights. Trendy bistro lights add a gorgeous glow to any outdoor living space, like the one shown here by the creators behind Ciderpress Lane.
RECOMMEND
If you're looking for a stylish yet space-saving lamp for your home or office, look no further than the Lamp Depot Corner Lamp. The easy-to-use remote control makes it simple to shuffle through 16+ million colors and 300+multi color effects to find your perfect lighting. ENJOY 46% OFF,  SHOP NOW>>
Read also
10 CREATIVE CHRISTMAS OUTDOOR LIGHTING IDEAS

10 EASY AND CHEAP HALLOWEEN DECORATION IDEAS

HOW TO CHOOSE THE SUITABLE LIGHT TEMPERATURE FOR YOUR LAMP FIXTURES