5 TYPES OF LIGHTS BEST FOR BEDROOM
April 08, 2021
by Cassie Liu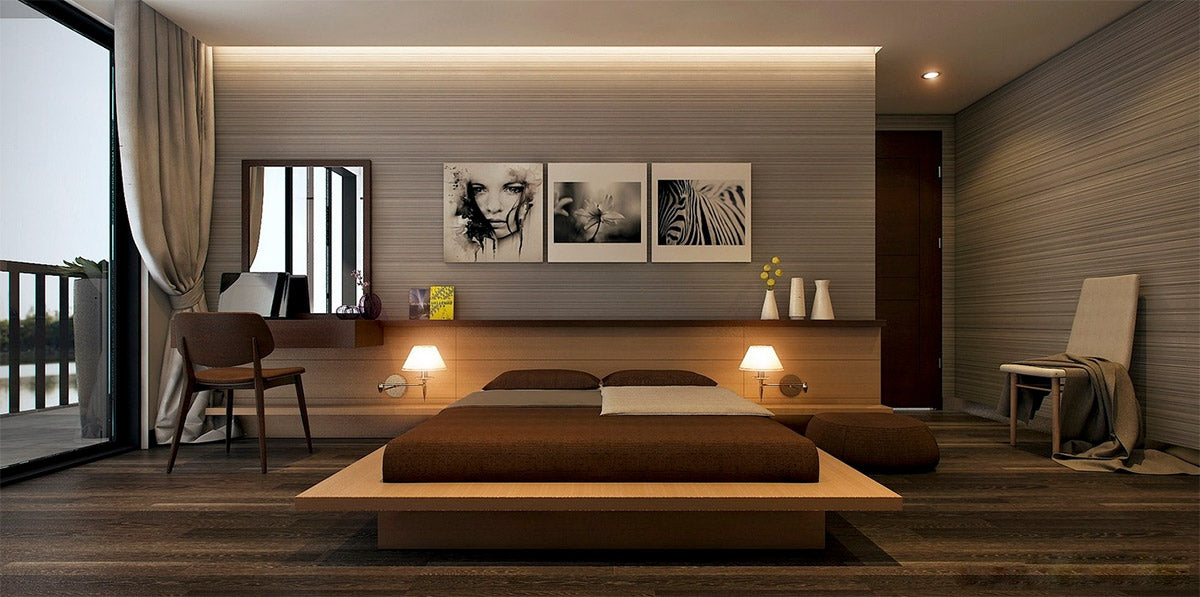 Bedroom decoration is very important,bedroom isn't just a place to sleep for modern office workers. It's also a private space where he/she read a book or watch TV.Suitable lights can create a perfect and cozy atmosphere,which good for office workers to relax their bodies.
We will introduce 5 different kinds of lights for reference, get ideas from our blog to ensure that you can cozy up at night or stay snuggled in bed with the one you love.
1.Ceiling Lights
Ceiling light is the most traditional lamp for interior design the lighting market.
Many gorgeous ceiling lights are dazzling, but in fact, the overly complicated ceiling lights are not suitable for private bedrooms. Such lights are difficult to clean and no longer popular. We think they are only suitable for use in hotel lobbies.
On the contrary, we recommend that you use minimalist lamps to decorate the bedroom. It is very durable and special, and it can also increase the modern sense of the bedroom.
2.Floor Lamps
Floor lamps are versatile furniture pieces that you can use to brighten a room. Many interior designers use them to give just the right amount of lighting to a room or to add a sense of height and elegance to a specific area. 
When choosing a floor lamp, it is important to make sure that you find one that matches the rest of the décor in your room, as these lamps tend to be large enough to become a focal point if you're not careful.
Corner floor lamp is a space-saving lamp that fits perfectly in corners for your bedroom. It's easy to use remote control makes this minimalist lamp simple to shuffle through 16+ million colors and 300+multi color effects to find your perfect lighting.
3.Beside Table Lamps
One of the reasons that so many people love having a bedside table lamp in their room is that it allows them to climb into bed and finish work that they are doing, read a book, or talk to their partner before easily rolling over and turning off the light. 
Table lamps let you fine-tune the atmosphere of your bedroom. They give you additional light where you need it while also adding a bit of personality. 
Levitating Mars lamp is a lamp that can show personality very well.
It using magnetic levitation technology, this 3D-printed LED lamp floats and spins all on its own above the included base just like its celestial counterpart. Each lamp is equipped with touch sensor controls and 3 lighting modes so you can select the perfect lighting for your space and enjoy the mesmerizing motion of this miniature planet magically suspended in mid-air.
4.Recessed Lighting 
Recessed lighting is a great option for a bedroom because of its sleekness, versatility and function.You can add recessed lighting in your walls for a modern twist and interesting illumination.
Use the recessed lights to provide bright ambient illumination that washes the walls to highlight artistic accents throughout your space.
5.Rechargeable Night Light
A night light is necessary for families with children and people who are afraid of the dark.The rechargeable night light is small and portable. 
It doesn't have to be connected to the power source all the time so you can put it anywhere. You can even put it next to your pillow if you want.
Cute bunny kids night light is soft enough that it doesn't hurt the kid's eyes and helps them to fall asleep quickly.It is not only a night light but also a child's toy, small animals with soft light will make the child feel more secure.When the kid goes to the bathroom at night, this toy can prevent children from knocking and falling.
Light is the most important external factor affecting sleep. While most people intuitively know that it's easier to sleep when it's dark, the link between light and sleep goes much deeper.